Biography of Mr. LEE Kui-chee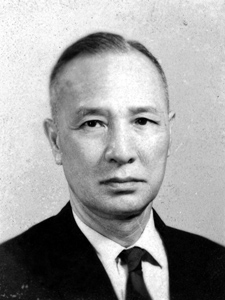 Mr. Lee Kui-chee was born in 1910 in Xinhui, Guangdong, China. In his early years, his grandfather tutored him. After his grandfather had passed away, Kui-chee joined his family and moved to Guangzhou. He studied Classical Chinese from a well-known Chinese scholar, Mr. Lam Sai-kui. By the time Kui-chee was sixteen, he had terminated his schooling to help his father's business.
In 1927, at the age of 17, Kui-chee went to Hong Kong on behalf of his father to set up a branch selling textile goods. He had a great desire to continue his education in English. In his spare time, he studied English, Mathematics and Science at Wah Yan College Night Classes. He entered the Junior Local section of the Joint Secondary School Examination in 1930, which was equivalent to School Certificate Form 5 level. He achieved outstanding results and was awarded a scholarship to study full-time Matriculation in Queen's College. He then gave up his business as a textile merchant and furthered his studies.
He graduated from Queen's College Matriculation Class in 1931 with distinctions in Chinese, Mathematics, Physics and Mechanics. He was awarded a full four-year scholarship with a living allowance to study at the University of Hong Kong (HKU). He graduated in 1936 with a B.A. degree with majors in English, Chinese and Mathematics.
In 1937, he taught at King's College. His teaching career was interrupted in 1941 by the outbreak of the Second World War and Japanese Occupation of Hong Kong. After the war, he resumed his teaching at Yau Ma Tei Government Secondary School. In 1950, he was offered a teaching post at his alma mater, Queen's College. He taught his major subjects, Arithmetic, Algebra, Geometry and Trigonometry. He wrote a model answer for the standard textbook of High School Geometry, which benefited his students.
In 1953, he was promoted to the Education Department of Hong Kong as an Education Officer. He was the School Certificate Board Secretary then. In 1958, he took over the office of School Planning and Development. Many schools were developed under his tenure, including Wong Shiu Chi Secondary School. He always said this was his most satisfying job because he saw education become widely available to all Hong Kong youths.
In 1965, at the age of 55, he retired from the Education Department to fulfill his lifelong dream of becoming the principal of Wong Shiu Chi Secondary School (1965-1971). He continued his passion for making education available to Tai Po. He made significant expansions during his era. He was also an inspiration to teaching staff. One of the teachers Mr. Tsu Gee-chong later became the school principal.
Mr. Lee Kui-chee was grateful for his six-year career at Wong Shiu Chi Secondary School. He retired in 1971 at the age of 61 and migrated to Canada in 1973 to join his family.
In Canada, Mr. Lee Kui-chee continued his past interests in Classical Chinese and composing Chinese poems. He also practiced Chinese calligraphy. He popularized Pin Yin as a form of written Chinese and published two books:
"Lee's New Form of Written Chinese for Advanced Learners" in 1978
and "Lee's New Form of Written Chinese for Beginners" in 1980.
He was an avid learner and dedicated his career as an educator. He frequently stated, "Knowledge is power." He passed away in Canada in 2000 at the age of 90. His family is thankful to Wong Shiu Chi Secondary School for naming its library after him.
Mr. Lee Kui-chee always practiced a scientific approach for healthy living and nutritional diet. He coached his growing children swimming and Tai Chi. He practiced Tai Chi till 90 years old. He was a dedicated father and a loving husband to his wife, Mrs. Lee Ko Wai-yan, for fifty-nine years. They have six children and seventeen grandchildren. He was a private tutor in Chinese, English, and Mathematics to his six children: Sai-kui, Sai-ping, Man-chi, Sai-cheung, Mei-chi and Sai-wah. He was a caring father and was indeed our role model.
Read "Lee's New Form of Written Chinese for Beginners"
Read "Lee's New Form of Written Chinese for Advanced Learners"
Go To Lee Kui Chee Library Website