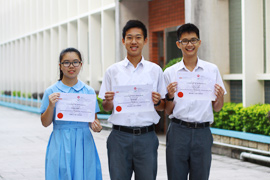 Our school participated in the International Junior Science Olympiad - Hong Kong Screening 2017, which was co-organised by The Hong Kong Academy for Gifted Education, the Gifted Education Section of the Education Bureau (EDB), the Hong Kong Association for Science and Mathematics Education, and the Chief Executive's Award for Teaching Excellence Teacher Association. The event was held at Cheung Sha Wan Catholic Secondary School on 24th September 2016. Our student Yu Pak Hei and Lo Yat Fung from 3A have been awarded Second Class Honours while Chiang Wing Yi from 3E has been awarded Third Class Honour. Here are their reflections on the competition.
Reflection by YU Pak Hei 3A(31)

It is my honour to be one of the participants representing my school to have participated in the International Junior Science Olympiad (IJSO). This competition covers most of the Form3 Physics, Chemistry and Biology syllabuses, which have not been taught. However, I took it as a challenge. The result is surprising and it is a great experience for me.

To prepare for this competition, I spent the whole summer vacation revising what I had learnt in Form 1 and Form 2 and what I would learn in Form 3. Besides doing revision, I searched extra information in order to learn the new terms and knowledge of Physics, Chemistry and Biology. Also, I tested myself with past papers to see whether I understood the knowledge well or not. It was hard for me to keep acquiring new knowledge while finishing the summer holiday assignments and participating in some extra-curricular activities. However, I enjoyed being so busy because I know 'no pain, no gain'. If I work hard, I will earn something in future. I did indeed. I won a second class honour in the competition and gained a valuable experience.

Last but not least, I have to thank all my teachers for the training they offered. They spent extra time helping me prepare for the competition. I would not have had such a good result without their commitment.

To conclude, in order to get good results in competitions, the only way is to try our best to prepare for the competition well and not to give up when facing problems and opponents. This can be applied to studies as well. We always have to try our best. 'No pain, no gain' is the key to success.
Reflection by LO Yat Fung 3A(20)

In September 2016, I participated in the International Junior Science Olympiad (IJSO) 2017 – Hong Kong Screening. There were questions about Physics, Chemistry and Biology.

I had known nothing about IJSO before Mr. Yam introduced it to me. After the introduction, I found it was a good opportunity to improve my thinking skills and enrich my knowledge of science.

Our school provided much training as support. Mr. Yam, Miss Yong and Mr. Tse prepared me for Physics, Chemistry and Biology questions respectively. They spent a lot of time helping me solve different kinds of questions and consolidating my basic knowledge of the above subjects. What I have learnt was useful when answering questions in the Hong Kong Screening of IJSO.

Before the screening, I had worked hard and learnt a lot. Therefore, in the competition, I understood most of the questions and answered them with confidence. Indeed, some of the questions were difficult since there were traps which tricked me.

At the end, the result was released. I won a second class honor and I am satisfied with my result since my effort was rewarded and I am shortlisted for Phase I of the 14th International Junior Science Olympiad Student Training Programme, which allows me to acquire more scientific knowledge.

All in all, my participation in this competition is unforgettable and beneficial. I thank my school and teachers for giving me this precious opportunity. I want to thanks Mr. Yam in particular. Without him, I would not have heard of this competition. He offered me a great opportunity, which enhanced my scientific thinking.
Reflection by CHIANG Wing Yi 3E(6)

I am glad to be given a chance to represent my school to join the International Junior Science Olympiad. I remember I was shocked when I knew that I could join the competition as this competition covered all the science knowledge learnt in Form 1 and 2. I found it hard to prepare by myself. Luckily, my teacher advisors, Mr. Yam, Miss Yong and Mr. Tse, spent their spare time helping me with the preparation during the summer holiday. I am grateful for their assistance and guidance.

Whenever I had any questions, I would jot them down in a notebook and ask teachers for clarification. Asking questions is very useful for my learning because I can understand the concepts more thoroughly and even learn something extra to improve my own knowledge. Also, I read a lot of reference books about science, which helps me learn knowledge beyond my textbook, for example, the predicted reactions of all the elements in air and the human body structure. Extensive reading helps me better prepare for the competition.

After the competition, I have gained a lot of valuable experience. I truly understand that learning is boundless and endless. There are many things that I have never heard of. The competition allows me to satisfy my eagerness to learn and read more. Besides, I have learnt to stay calm. During the competition, I was nervous because I was not confident enough. But after calming myself down, I found that the competition was not that difficult. No matter how difficult the challenge is, putting effort and trying my best help me become more confident and perform better. Even the result is not as good as what I expected, I would have no regrets.

I am glad that to win a third class honour. I would like to express my heartfelt thanks to all teachers and classmates for their support and encouragement.