This year's English Week was held between the 6th and 15th of March with the theme "Exploring National Treasures through English". Engaged in interactive and thought-provoking activities, students did not only enrich their knowledge on national treasures of the world but also increased their understanding on the importance of preserving the "Wonderful Segments in Cultures".
The wonderful time in this year's English Week was again attributed to the wide variety of activities that were on offer throughout the days. We had interesting assemblies, in-class activities as well as lunchtime public activities organized and run by Intercultural Education Limited (ICE), Committee Members of the English Association and English Prefects.
Banner & Assemblies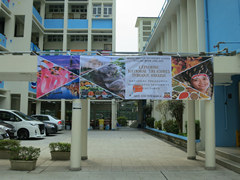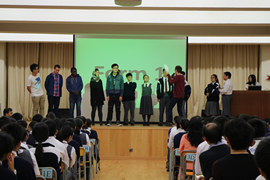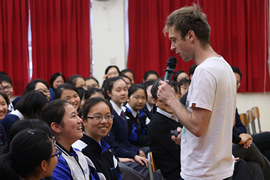 During the Junior and Senior Form Assemblies, students keenly participated in on-stage and off-stage activities, interacting and playing games with the foreign guests invited by ICE. The School Hall was filled with laughter when students had to show how much they knew about certain countries in the world, competing in games where they had to rearrange the foreign guests on stage according to their country size, population, average temperature and language.
In-class Activities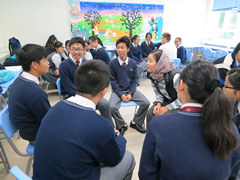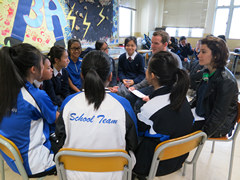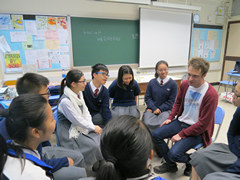 Trainers and guests of more than 20 countries came to run the in-class activities. S.1-2 students were encouraged to use and improve their English communication skills by having face-to face chats with foreigners after getting to know their national treasures. S.3 students and foreign guests discussed the issue of national treasure conservation while S.4-5 students had to reflect both on their own identities, and those of the foreigners'.
Lunchtime Activities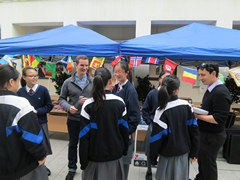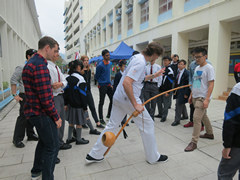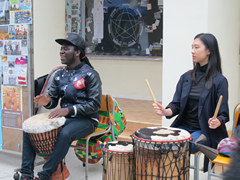 Through the entire week, a number of students were eager participants in seven lunchtime activities which allowed further interaction with the foreigners. The activities included Photo Booth, Global Radio, a Capoeira (which is a traditional Brazilian dance and martial art) Competition run by a renowned Australian trainer, Daniel, African Drumming, Global Village, South Asian Cultural Games and Snacks, and National Treasure Mix and Match.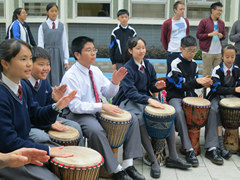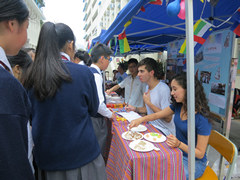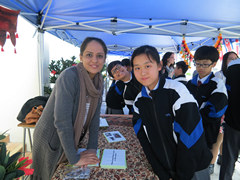 Included in the vast array of activities were the competitions held during the Senior and Junior Form Class Periods on the 6th and 15th of March. Students displayed their rich knowledge, creativity and imagination in a range of contests related to the theme of the English Week. These included video quizzes, completing and rewriting song lyrics, solving crossword puzzles, drawing, creative writing and designing posters.
Class Period Competitions & Book Fair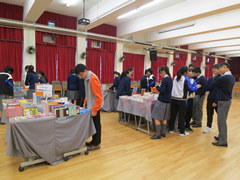 Apart from the many activities listed above, students could also display their talents in the Singing Contest. There were many talented acts that showcased beautiful singing as well as guitar and piano playing. We even had a special guest, Mr. Chau, who performed by playing the guitar while singing.
Students were also treated to the Book Fair held in the School Hall, where they were able to purchase bestsellers and highly popular books at discounted rates. Students wasted no time snapping up the bargains with many books being sold out quickly.
Photos with International Guests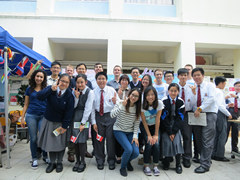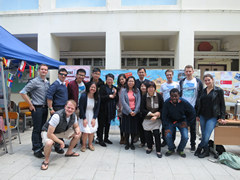 All in all, English Week 2017 was undoubtedly a major success. Students were actively engaged in all the activities, showcased their enthusiasm, passion and curiosity in learning more about national treasures and different cultures of the globe. They had substantial opportunities to develop their intercultural competencies by interacting with foreigners. The whole week has no doubt brought us delightful memories which will be everlasting.